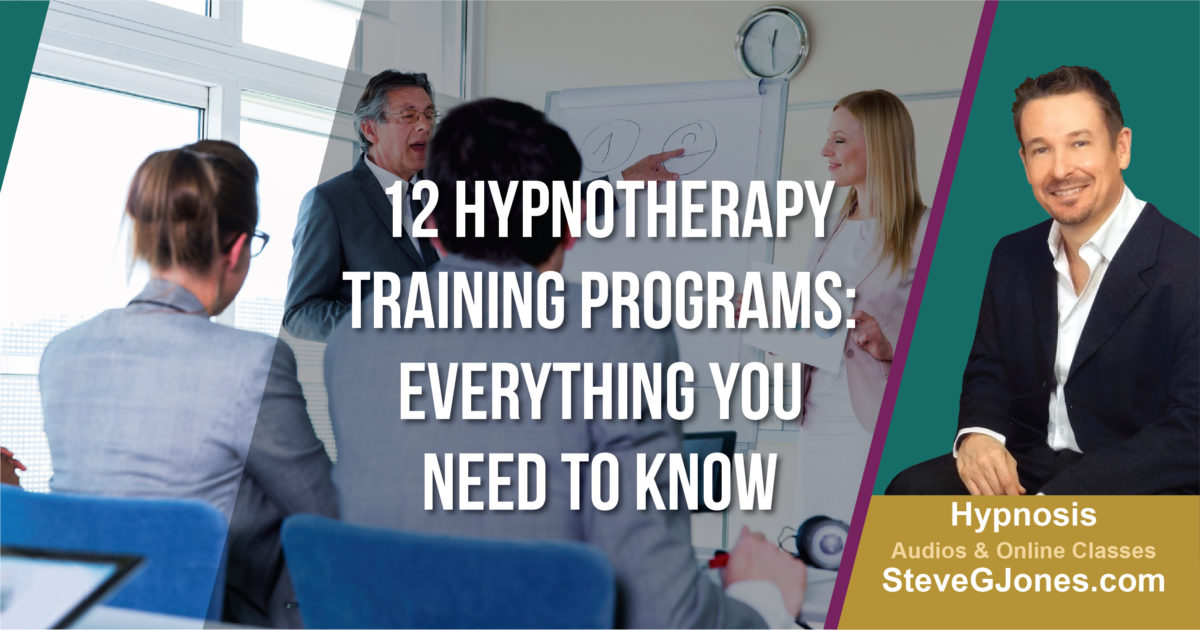 Background of Hypnotherapy Training Courses
Hypnosis is a widely known therapy option used in treating a variety of ailments and conditions. The practice involves guided therapy in which the patient reaches a state of relaxed consciousness, which enables them to be easily influenced by suggestion. While the practice is most often related to psychological practices treating trauma and mental disorders, hypnotherapy training also commonly covers topics such as:
Pain management
Aiding in ease of childbirth
Sleep conditions
Relieving stress
Hypnosis is often taught to practitioners, who will be using hypnosis in conjunction with  other forms of therapy.
The practice of hypnosis techniques dates as far back as prehistoric times, although the technique and study was revolutionized by James Braid in the early 1800's. Braid was a renowned surgeon and is now regarded as history's first "hypnotherapist." Modern hypnotherapy was greatly influenced by Braid's work. However, hypnosis techniques did not become mainstream until over 20 years after Braid's death in 1860. Since then, hypnosis techniques have become an increasingly popular form of therapy, offering treatments encompassing hundreds of conditions, and in some cases, replacing modern medication.
In most cases, individuals who seek hypnosis certification training are licensed healthcare professionals with education extending beyond a four-year degree. However, courses are offered for applicants who have not completed this level of education as well. For most programs, applicants are required to at least be licensed healthcare specialists or hold a degree in psychology or another health-related field.
Courses are offered by multiple institutions and each of the courses vary, providing their own individual benefits and drawbacks. However, each program listed below provides a hypnosis certification upon completion of the course. Specialty certifications are available from some institutions and are designed to help trained hypnotists further their knowledge and expertise in specific areas of the hypnosis field.
While there are several institutions offering hypnosis certification training, there are a few unique options. Some institutions offer immersive, hands-on courses, while others offer training from well-known professionals with over 20 years of experience practicing hypnotism. Some programs offer an online option, while others offer weekend classes or self-paced classes in order to accommodate the busy lifestyles of interested professionals.
In the United States, accreditation is not required for courses offering hypnotist certification. Licensing requirements vary state-by-state.
The Hypnotherapy Training Institute offers a unique compact learning experience. They claim that their comprehensive classes provide the most learning material over a shorter amount of time than other institutions. The institution is also unique in that it holds three classes a week, as opposed to the typical five. Each certification program consists of four levels of courses, and each level consists of five days of class, totaling twenty days of class time. The institute also offers weekend classes to make the program more obtainable for students with a busy schedule.
The courses are approved for certification by the American Council of Hypnotist Examiners, which require 200 hours of class credit. However, the Hypnotherapy Training Institute offers an additional 100 course hours for those who wish to gain extra knowledge in the field.
The Hypnotherapy Certification Course is taught by Randal Churchill and Cheryl Canfield, who have more than a combined 60 years of experience in hypnotherapy. Churchill was the first President of the American Council of Hypnotist Examiners.
Pros: Short course periods (20 class days). Offers weekend courses to help suit the schedule of busy professionals.
Cons: Not accredited. No online option available. No mention of career support after certification is received.
The American Society of Clinical Hypnosis offers a variety of courses, including training workshops (Basic, Intermediate, and Advanced) and certification courses in hypnotherapy, as well as an option for further education to become an ASCH Approved Consultant in Clinical Hypnosis. Becoming an Approved Consultant allows you the ability to counsel and provide training to other professionals seeking hypnosis certification training. The ASCH is accredited by the Accreditation Council for Continuing Medical Education.
To qualify for the Hypnosis Certification Training course at the American Society of Clinical Hypnosis, applicants are required to have at least a Master's Degree in their chosen health-related field and a membership in a professional society related to their degree. They must also hold licensure in the state in which they which to practice. Obtaining certification requires a minimum of 60 hours of ASCH approved courses and training, as well as two years of practice in hypnosis. The certification must be renewed every three years and requires a minimum of 20 hours of ASCH courses for renewal.
At the American Society of Clinical Hypnosis, courses are offered at many various locations covering the United States, as well as online. Instructors vary by course location.
Pros: Accredited. Offers advanced course to become an "Approved Consultant" to teach hypnotherapy courses. Online Course offered.
Cons: Short renewal period of only 3 years. No mention of career support after certification is received.
The Hypnosis Motivation Institute (HMI) is nationally accredited by both the Accredited Council for Continuing Education and Training and the Distance Education Accrediting Commission. HMI was the first college specializing in clinical hypnosis training to be accredited in the United States.
HMI offers both online and in-person training. The in-person training at the HMI location in Southern California includes a one-year training program and internship, while the online course provides over 300 hours of coursework in the hypnosis field. HMI offers a free trial course to interested candidates that provides a unique 10 credit hour experience in which students will have access to video lessons, quizzes, and an online tutor for no starting cost before deciding to begin the program. These 10 hours count towards the certification requirements.
Students at the Hypnosis Motivation Institute are also offered access to a personal tutor. All tutors at HMI are graduates of the program who are available to students on a one-on-one basis. For online programs, tutors are available through video chat using Skype.
HMI also offers over 20 unique specialty certification courses, including hypnosis therapy dealing when dealing with ADD, transgender clients, trauma recovery, past-life regression, PTSD, childbirth, weight loss, pain management and more. There are also courses offered in handwriting analysis and therapeutic imagery, as well as an advanced course offering neuro-linguistic practitioner certification.
The Hypnosis Motivation Institute offers a varied team of Instructors who have experience in the hypnosis field. Many of these instructors have more than 10 years experience.
Pros: Accredited. Offers 10 free hours before enrolling. Multitude of specialty programs for furthering education. Offers personal tutor.
Cons: No mention of career support after gaining certification.
The Milton H. Erickson Foundation is an accredited organization that strives to honor the teachings and psychological advancements discovered by renowned psychologist, Milton H Erickson. Erickson specialized in clinical hypnosis and is well known for his creative approach to psychological therapy, which involved using the unconscious mind to produce logical solutions. He founded the American Psychological Association. The Milton H. Erickson Foundation offers both online training courses and on-scene training. Intensive training takes place in Phoenix, Arizona, but there are branches of the Milton H Erickson Institute in eleven different U.S. states and throughout 26 foreign countries.
One of the most popular programs offered is the Intensive Training Program. This program involves 30 credit hours of training and is available only to professionals who either hold at least a Master's Degree in a health-related field or are currently enrolled in an accredited graduate program.
Another popular program is the Master Class Program, which takes on only 12 students per course period, in order to provide an intimate environment. The short, four-day program allows an interactive experience where each student assumes the role of patient, therapist, and supervisor. This is an opportunity both for personal growth and skill enhancement with like-minded individuals.
The Milton H. Erickson Foundation is accredited by the Accreditation Council for Continuing Medical Education and approved by the American Psychological Association, making it a top choice for continuing education for medical professionals and psychiatrists alike.
The Milton H. Erickson foundation employs a large number of instructional staff to teach Hypnotherapy Education at their varying locations.
Pros: Accredited. Unique hands-on learning opportunity in the Master Class Program. Multitude of locations all over the world.
Cons: Limited hypnosis certification training offered.
The American College of Hypnotherapy at the American Institute of Healthcare professionals offers a rigorous 220-hour course to obtain a Hypnosis Certification. Admittance is decided on an individual basis, depending on the student's area of study.
The American College of Hypnotherapy offers an option to continue education for applicants who already hold a degree. However, applicants for the continuing education program are not required to hold a Master's Degree. Instead, practicing professionals from a health care field, social workers, ministers, licensed psychiatrists and psychologists, or applicants holding a bachelor's degree in psychiatry, human services, or a health-related field qualify for the course.
The American College of Hypnotherapy offers classes both online and in-person. Classes are offered on an "open enrollment" basis and can be paid for and completed one at a time. This allows students to complete certification at a time and pace that is most convenient to them. Recertification is required every four years.
Pros: Online course offered. Does not require Master's degree. Open enrollment and self-paced classes allow busy professionals to complete certification at convenient times.
Cons: Not Accredited.
The Hypnotherapy Academy of America offers an extensive arrangement of courses, both online and in-person, to help students become Certified Hypnotherapists. The certification requires 300 hours, but an extra 200 hours of special courses and workshops are available to those who wish to further their hypnosis education beyond just the certification. Completing 400 hours allows the title of "Certified Clinical Hypnotherapist." Hypnotherapy training classes are available both on location in Albuquerque, New Mexico and online.
The Hypnotherapy Academy of America offers a unique opportunity in which it helps ready students to further their career after receiving their certification by teaching strategies that students can use to build, market, and promote their own practice. They also offer the unique experience of a confidence-building program for hypnotherapists.
Pros: Offers preparation for career building after certification. Clinical certification offered. Online classes available.
Cons: Not Accredited.
The Wellness Institute offers a six-day certification course, which is only available at an on-site location in either Chicago, New York, Cleveland, Ft. Lauderdale, or Seattle. The course is not accredited but does offer 60 hours of continued education in Hypnosis. Class size is generally small, ranging from 10-30 students per session, and offers hands-on experience throughout 70% of the course.
The Wellness Institute is approved by the National Association of Social Workers as well as the National Board for Certified Counselors as a continuing education provider.
The Wellness Institute host a varied team of experienced Instructors, most of which have been in practice for at least 20 years.
Pros: Intimate class size. Short course session lasts only from Thursday to Tuesday to reduce the amount of missed work for professionals.
Cons: Not accredited. Not a very rigorous course, may offer less material that more rigorous courses. No online option.
For a more spiritual approach to gaining Hypnotherapy Certification, the Institute for Hypnotherapy and Psycho-Spiritual Trainings offers a hypnotherapy training course consisting of four levels. Classes are held during the weekends over the course of two months. All four levels (equaling 200 hours) are required to earn Certification. Certification as a Clinical Hypnotherapist is available after the completion of 250 course hours.
They offer various additional training for furthering education in the field as well, such as an advanced course focused on Ericksonian Hypnotherapy, based on the teachings of Milton H. Erickson. The program is available to both licensed and unlicensed applicants. Courses are offered on-site in Lafayette, CA.
Pros: Offers weekend courses. Available to unlicensed students.
Cons: Not accredited. No online option.
The Southwest Institute of Healing Arts, located in Tempe AZ, offers two programs specializing in hypnotherapy. The first course is a basic hypnotherapy course, consisting of three levels of foundation courses. This basic course requires 100 hours, but does not offer certification.
However, this course is required before enrolling in the more advanced course, which requires 350 hours (310 if completed online) and results in a Clinical Hypnotherapy Certification. The advanced course covers more specific areas, such as fears, phobias, addictions, past-life regression, and script writing. There is no middle option for basic certification.
The advanced course also offers a business development and entrepreneurial support course, which is required to complete certification and seeks to help students find success in furthering their careers after completing the course.
Pros: Online option. Offers career support after certification.
Cons: Not accredited. Must complete 350 hours for Clinical Certification program. No basic certification offered.
The Banyan Hypnosis Center offers an option for Hypnotherapy Certification that required only 100 credit hours. Both the Banyan Center and Instructor Cal Banyan are professionally accredited. Classes are offered on location in Dallas, TX. There is also a distance learning Certification program available online.
The Banyan Hypnosis Center states that they offer daily hands-on training to build confidence throughout the program as well as career support after the Hypnosis Certification Training is completed. There is an option to have your practice listed online in the Banyan Hypnosis Center Hypnotists Directory and additional marketing support available.
The Banyan Hypnosis Center Hypnosis Certification program is offered to applicants who do not have any formal training in the hypnosis field.
Pros: Online option available. Professionally accredited. Short coursework for certification.  Career support after certification. Does not require a Master's Degree.
Cons: The short course may not offer in-depth training.
The Hypnotherapy Certification program at Bastyr University requires the completion of two 50-hour courses, totaling 100 credit hours, for Certification. The courses require a mix of on-location and at-home study. Bastyr University offers their Hypnotherapy Certification program at their location in Kenmore, Washington. The two courses offer education surrounding both "Awareness and Integration" as well as "Transformation and Healing." One further optional course includes education in hypnotherapy techniques involving professional weight management.
Bastyr University is regionally accredited by the Northwest Commission on Colleges and Universities. Bastyr University offers a free open house weekend to help applicants decide if the program is right for them.
Pros: Accredited. Short course requirements for gaining certification.
Cons: No online course offered. No mention of career support after certification is received. Short course may not provide in-depth education when compared to longer courses available.
The Hypnotist Certification Program offered by Dr. Steve G. Jones gives students 120 credit hours of hypnosis instruction including coverage on topics like hypnosis and ADD, amnesia, the use of hypnosis with the 12 step program, and handling client relations. The program is certified by the American Alliance of Hypnotists.
The course offers information on online marketing and promotion strategies as well as in-office tactics to help students further their careers after certification. Students who complete the course will have their practice listed in the directory section on the American Alliance of Hypnotists website as a "Certified Hypnotist Trained by AAH." The course is only offered online.
Classes are self-paced and may be completed anytime between 8 weeks and one year. Open enrollment is offered. There are no specific eligibility requirements to enroll in the Hypnotist Certification Program.
Instructor Dr. Steve G. Jones has over 30 years of experience as a Certified Clinical Hypnotist. He holds a Doctorate degree in education from Georgia Southern University and is a member of the American Board of Hypnotherapy and the National Guild of Hypnotists, as well as the president of the American Alliance of Hypnotists.
Pros: Open enrollment and self-paced courses are convenient for working professionals. Career support following completion of certification course is offered, as well as practice listing in hypnotist directory. Available Online.
Cons: No in-person courses currently available.
Choosing the Best Hypnosis Certification Program For You
The practice of hypnosis is geared toward individuals with a passion for helping others, but it is important to remember that most hypnosis programs teach self-hypnosis in order to help individuals break unfavorable habits and increase awareness and focus. Individuals who are most often successful in the hypnosis field are personable with an aptitude for listening and understanding.
A hypnotist should be able to comprehend the client's issues and apply practical knowledge during the course of the hypnosis techniques in order to help the client accomplish a level of challenge-solving. Hypnotist should be patient and eager to learn the vast quantity of knowledge required in order to achieve success in hypnosis. These are key qualities for a Certified Hypnotist.
When choosing a practice, consider your needs and educational background. You will need to find a course in which you meet the requirements. If you plan to open a practice or already own your own practice, an organization that offers career assistance will be beneficial to you.
In most cases, a small class size is favorable when learning hypnosis techniques due to the immersive, hands-on nature of the practice. Accreditation is not necessary, but in some cases, like when hoping to transfer credit hours to another applicable Institution, an accredited program is preferred. You should also consider your availability, as course length and schedule varies greatly by organization. In many cases, an online course may be preferable to on-site education.
Each course is different, offering an array of educational opportunities in the field of hypnosis. In the end, choosing the best hypnotherapy training program for you will depend on what you hope to gain from the program and other needs that are specific to you.