Hypnosis for Laymen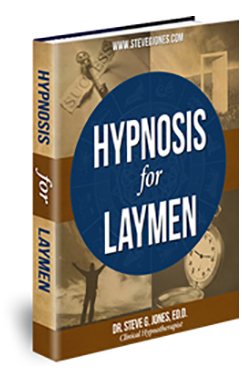 Title:
Hypnosis for Laymen
Author:
Steve G. Jones, Ed.D
Clinical Hypnotherapist
Pages:
150 pages
Chapter 1: Introduction
Chapter 2: The Pretalk
Chapter 3: Inductions
Chapter 4: Deepenings
Chapter 5: Scripts
Chapter 6: Amnesia
Chapter 7: Trance Termination
Chapter 8: Tying it All Together
Glossary
Appendix
References
Resources
Steve is among the best in the world.

Being someone who is extremely familiar with the power of hypnosis, I can say without a shadow of a doubt that Clinical Hypnotherapist Steve G. Jones is among the best in the world.
READ MORE »
—
Dr. Joe Vitale
Star of
"The Secret"
#1 Best Selling Author of
"The Attractor Factor"
Hypnosis for Laymen - Hypnosis Book by Steve G. Jones, Ed.D
Buy now only 39.95
Click here to purchase
Basic Hypnotherapy for Professionals
by Steve G. Jones, Ed.D, Clinical Hypnotherapist:

WOW!
No wonder Steve is the leader in hypnotherapy. How lucky are those who have had the benefit of his genius!
— Jeraldine Saunders, Creator of "The Love Boat" Series
I am thankful

I am thankful for the awareness of the work of Dr. Steve G. Jones and for the power to intentionally and deliberately implement his work into my practice and daily life.
—
Lisa Bythewood
- Valrico, Florida USA
Master Life Coach, Master NLP Practioner, Clinical Hypnotherapist
the BEST programs out there.
I have purchased 3 products from Steve. I purchased 12 strand DNA activation, Abundance and Psychic Ability…these are the BEST programs out there and I am very picky. I have returned more programs (from other people who claim to help) then I care to count. If you are tired of searching for real programs that help then buy from Steve. You really should be charging alot more…
— Karen G
Books by Steve G. Jones, Ed.D, Clinical Hypnotherapist: